SHOP!! SHOP!! SHOP!! TOP 5 YEK GIFTS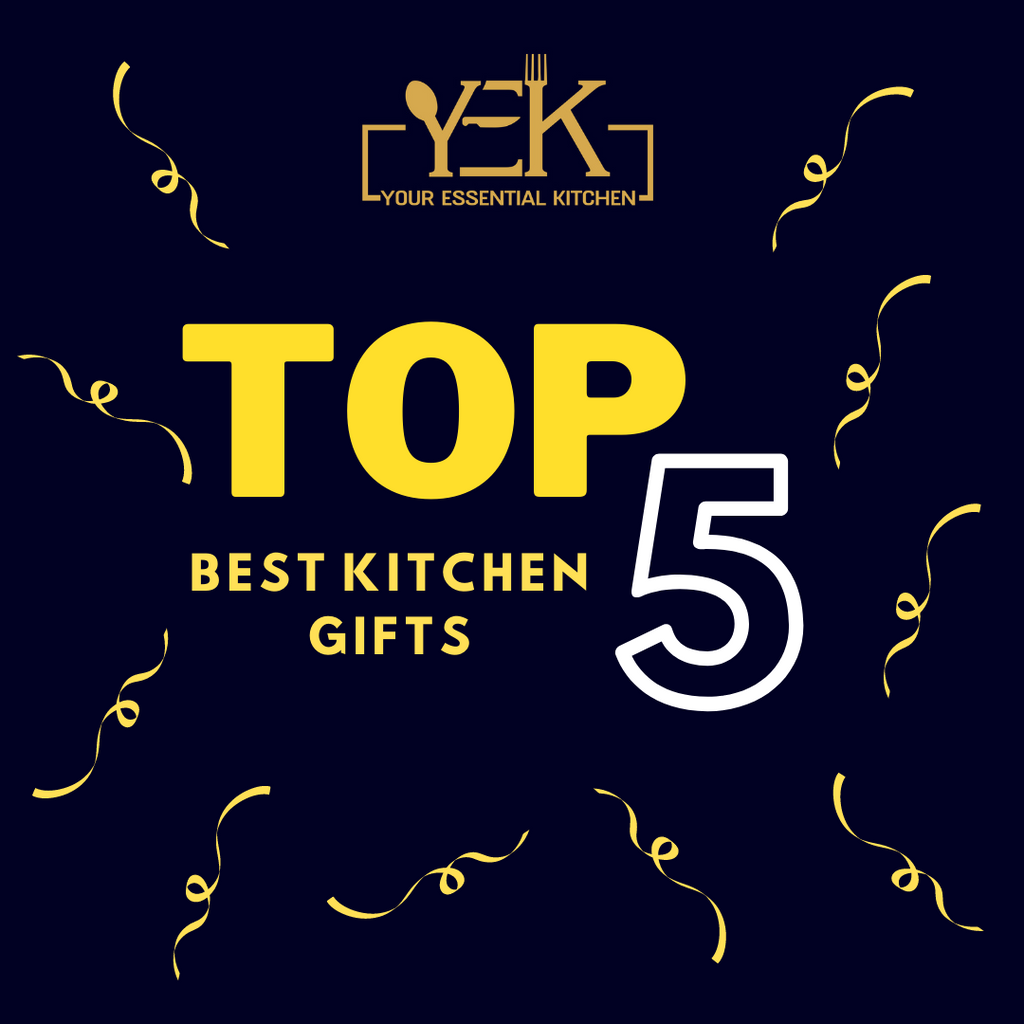 Struggling to find the Gift that will blow your Cook's mind.
Check out our TOP 5 List of Kitchen Essential products that will have your Kitchen Guru smiling all Season long. 
1. YEK SILWOOD COOKING SET
These kitchen essential silicone tools make every cooking task a little easier. Less waste and Less clean up. These tools allow you to scrape every last bit of flavor out of those pots and pans leaving very little oil or seasoning in the pan for clean-up.
This set not only comes in a variety of colors to match your kitchen, the assortment of tools included are designed to help with every task. The strong handles provide stability while the contour smooth tops provide flexibility and versatility to get to every spot of flavor.
SEE MORE ABOUT THIS PRODUCT
2. YEK CARBON KNIFE SET
These carbon cooking knife sets are great stocking stuffers for your young trendy cooks.  Keep them excited about cooking in the kitchen with these state of the art knives. Carbon steel knives are the choice of advanced users and professionals who seek superb cutting performance. It requires extra maintenance, but there are many carbon knife lovers that will vouch for its special advantages. We offer high-end hand forged carbon blade knives from Japan's top skilled craftsmen and forge-smiths.
SEE MORE ABOUT THIS PRODUCT
3. LUXURY FLATWARE SETS
If your entertaining or just having a family meal, Do it in style!
At Yek we always say that eating meals together is the most bonding we do as Humans. These Flatware sets can transform your boring dinner table into an elegant upscale setting.  The variety of options bring color, design and unique luxury to an otherwise straightforward kitchen item.
Bring life back into your kitchen and onto your dinner table!
SEE MORE ABOUT THIS PRODUCT
4. FUTURISTIC WINE OPENER
This is perfect for the elderly couple in your lives who still know how to enjoy themselves with a glass of wine. This Wine Opener allows you to sit back and let it do all the work. Sipping on your favorite Pinot or Cab has never been so easy. The press of a button and automatic corkscrew not only glides through wine corks, it also has a great feature to dispense the cork after it has been removed. No hassle, no fuss just the rewards great bottles of wine deserve.
SEE MORE ABOUT THIS PRODUCT
5. QUICK & SAFE DEFROSTING MAT
Forget to take out something for dinner from the freezer.  Don't have much time to thaw and defrost safely. Get this one of a kind Defrosting Mat to help with getting dinner ready fast and safe. Say Goodbye to Microwaves, save on your bills and keep the quality of your food in your food. No chemical and no electricity, All-Natural Made and FDA approved. Easy to clean and dishwasher safe this item comes in multiple size options and defrosts food in minutes rather than hours.